How AI can Streamline User Story Creation
By Claire Schubert · May 12th, 2023
User stories are an essential component in requirements management, and along with acceptance criteria, they describe a specific task or feature from the perspective of the end-user - which is a fantastic way to communicate what needs to be done.
Crafting user stories and acceptance criteria can be time-consuming and often repetitive, and that's where Userdoc's AI technology can save you hours and dollars.
How does it work?
We don't believe AI will completely replace humans, but we do believe it will augment our abilities.
AI algorithms are designed to identify patterns and trends within large datasets, and Userdoc utilizes a sophisticated AI model that identifies themes and patterns in the way users may interact with a particular system or application.
This means Userdoc knows how to write great user stories and acceptance criteria based on your specific needs, and not some cookie-cutter response based on predefined templates.
Generate user stories for a project using AI
Userdoc can help you create a new AI assisted project easily - allowing you to automatically generate user stories for an existing project you might have, or a new greenfield project.
Simply fill out the required information about your project, with guided prompts to help you along the way.
The example below shows setting up a new AI assisted project in Userdoc for a fictional system called "Eat Right AI".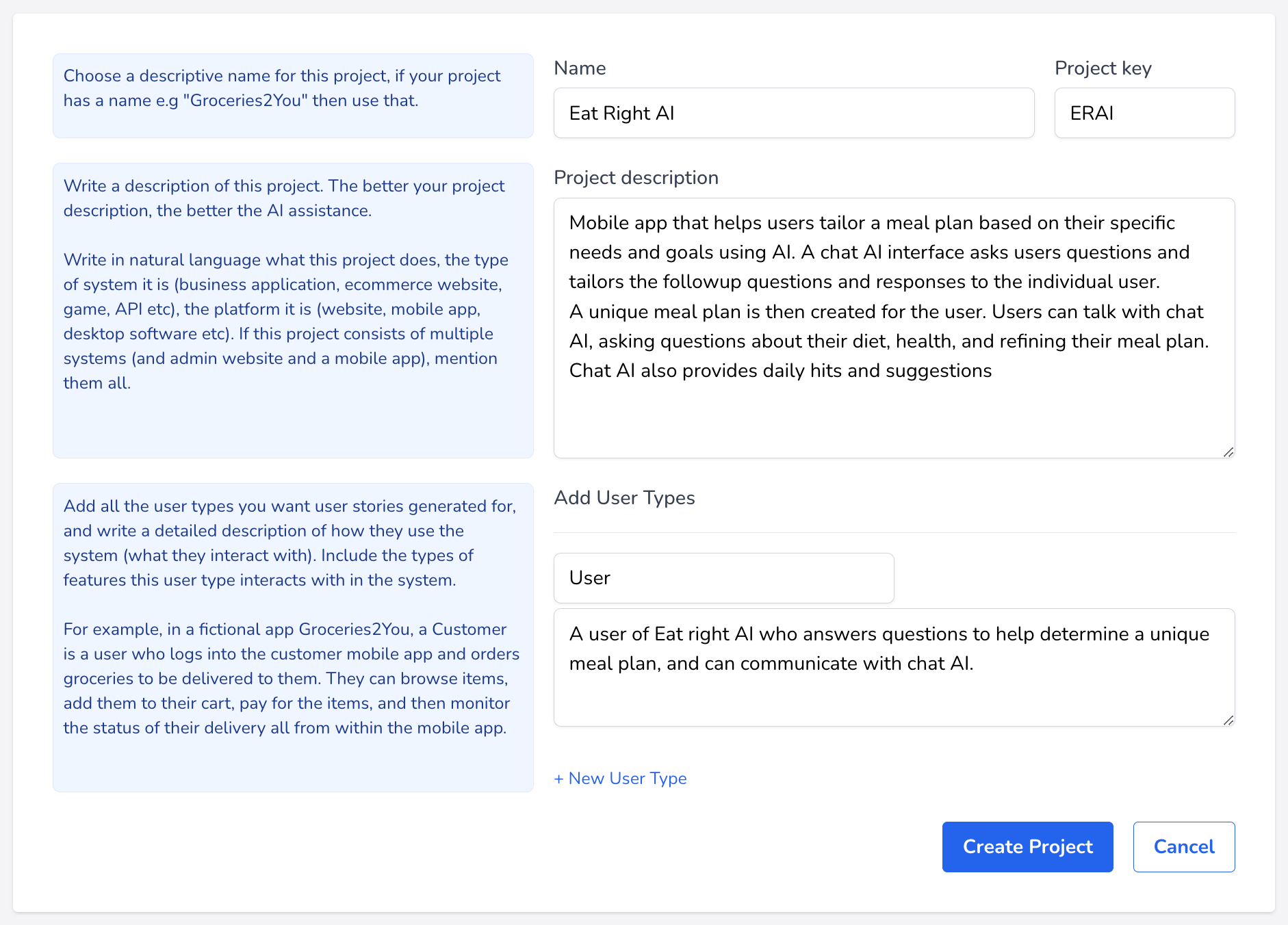 You then get back high-quality user stories, tailored exactly to your requirements. You easily can review and regenerate these stories, before adding them to your project.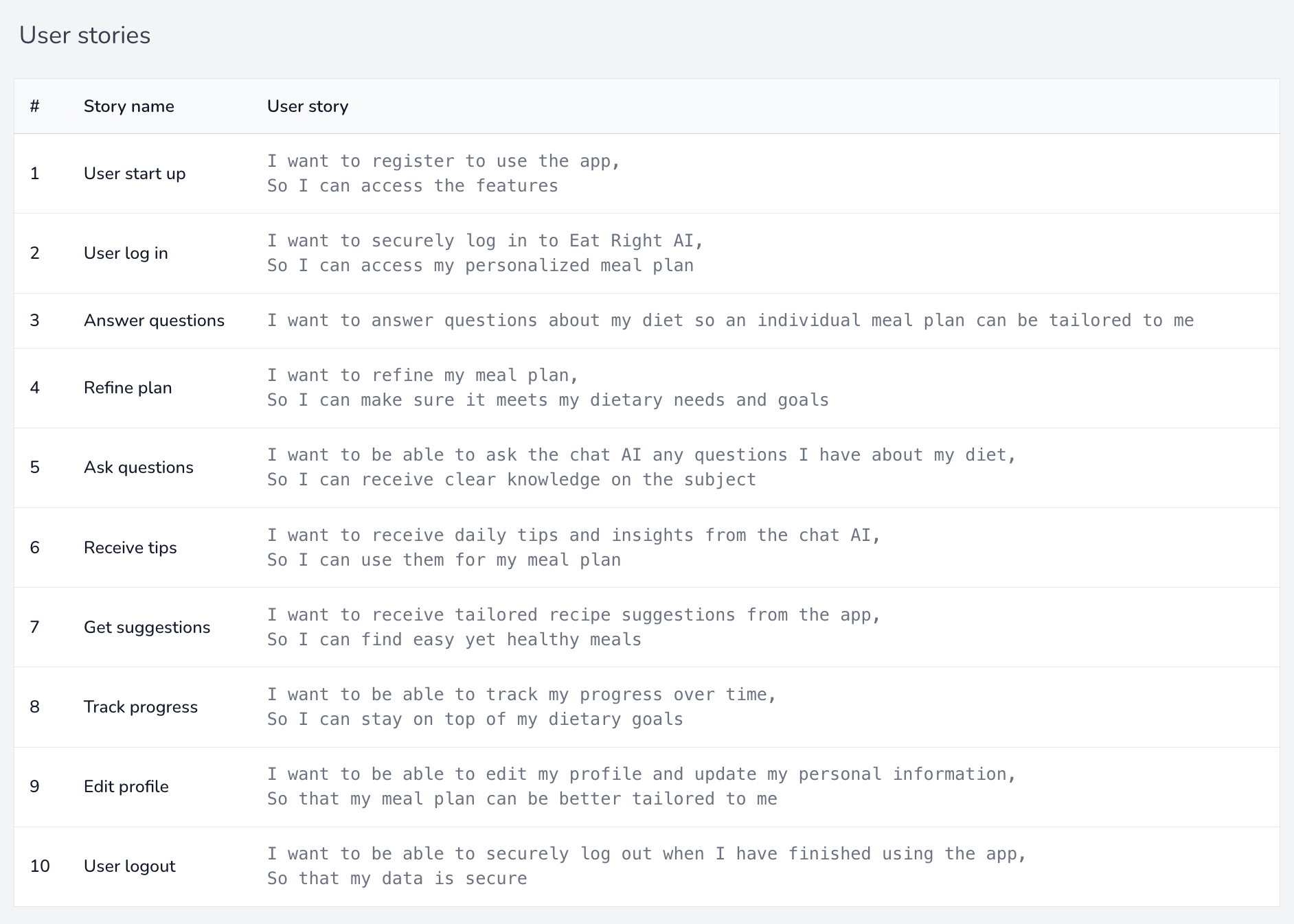 Regenerate user stories using AI
Like all AI assistance, not all user stories will match your expectations perfectly, so you can easily edit them manually - or simply regenerate the story (by pressing the sparkles button ✨)

Regenerating the story keeps the same goals and motivations, but uses different words to describe them, for example:

Generate acceptance criteria using AI
For every user story, you can easily generate the acceptance criteria required to fulfill the story, for example:

As you can see, Userdoc generates sophisticated and detailed acceptance criteria for your user stories, and like with stories you can easily edit and regenerate these to further refine them.
Some benefits of AI in user story generation?
A greater launching pad - Whilst you probably don't want AI to define all your system requirements, it's a great way to kick-start your requirements gathering, generating a lot of the common scenarios for you
Improved efficiency: AI can save you countless hours on repetitive and mundane writing tasks
Focus on what you do best - By automating a lot of the more common scenarios, you can focus on what you do best - capturing the deep specifics of the system you are mapping out
Personalisation: AI generates user stories tailored to individual system users' preferences and needs, which can result in more personalized and relevant stories. (Note: this certainly doesn't replace talking to actual end users!)
Consistency: AI can help ensure that user stories are consistent in format and language, making for an easily comprehendible requirements specification
But is Userdoc more than AI?
Userdoc is a modern requirements management system with AI assistance - it is not only an AI tool.
It acts as the source of truth for your project requirements and integrates with your existing project management tools to "push" the requirements to where they need to be.
Userdoc aligns with agile requirements methodologies beyond user stories and acceptance criteria, including user personas and user journeys (which both also support AI assistance).
AI is a powerful tool to assist user story generation and brings significant time-saving benefits to product and project development teams.
And who doesn't want that!?
Try it for yourself, and sign up for Userdoc's 14-day free trial.